Fab Five Lifestyle Magazine For Trend Setters And Style Divas. The world of fashion, beauty, and style is now entirely at your fingertips in the online magazine, Fab Five Lifestyle. This trailblazing new publication has something for everyone. With constantly updated features, the latest news on beauty products, grooming tips, fashion trends and who the biggest stars are wearing, is consistently relevant and intriguing to readers. Fab Five Lifestyle keeps up with the fast-moving pace of the fashion and beauty world and connects men and women to only the most fabulous, and current information.
Fab Five Lifestyle covers a variety of bases currently including features on Eva Mendes' Spring 2015 Collection inspired by old and modern New York style, Superstar Ariana Grande and her soon-to-debut fragrance, an easy-to-use hair growth serum by Grow Gorgeous that shows results in as little as eight days, Jamie Chung's stunning Leticia Linton diamond cluster earrings at the Oscars, Kanye West's x Adidas Collection spotlighted at New York FashionWeek, Alexander Birman's new shoe designs in demand by women all over the globe, award-winning actress Angela Bassett's dazzling Black and Gold Xtreme gown at the NAACP Image Awards, Katie Cassidy's million-dollar Harry Kotlar diamond earrings at the Academy Awards, Jennifer Hudson's chic Chimento and Pasquale Bruni Diamond earrings at the Academy Awards, and Brittany Snow's diamond rings courtesy of the world-renowned Le Vian family.
Readers will not only stay up-to-date on what their favorite celebrities are wearing and designing, but Fab Five Lifestyle introduces them to innovative products and advice so they can lead lives as fabulous and stylish as their fashion icons. The site features simple to navigate tabs such as Fab Five Hollywood that features the latest happenings where beauty, fashion, and Hollywood meet, Fab Beauty that reviews beauty products that the team has personally tried and approves, Fab Secrets that gives readers tips and tools for readers to shop, dress, and groom like professionals, Hair Glam that encompasses any and all products and methods for getting flawless hair, Men Style that gives men grooming tips, and The Designer that features expert and up-and-coming designers as well as Editor and staff favorites in beauty and fashion.
It's all about the fabulous life of style. Each week, our style news team places global focus on Style & Beauty for Women and Grooming & Style for Men.
We spotlight the best brands offered at specialty stores, department stores, online fashion boutiques, new beauty brands, top products men can use to support their daily grooming needs, best shoes at the right price, accessories, and in general any and all great new and exciting brands that will captivate and connect with our reader. Join us live daily.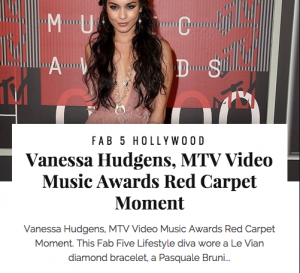 Fab Five Lifestyle Social Engagement Links
Youtube – https://www.youtube.com/user/Fabfivelifestyle
Instagram – https://instagram.com/fabfivelifestyle/
Pintrest – https://www.pinterest.com/fab5lifestyle/
Twitter – https://twitter.com/Fab5Lifestyle
Facebook – https://www.facebook.com/FabFiveLifestyles
Keep up with the lastest in fashion, beauty and style at http://fabfivelifestyle.com/.
Style Editorial Director
E: [email protected]