Goddess Couture News releases new Goddess of the Nile designer T-shirt collection on August 14, 2015. Women everywhere can shine and reflect their goddess-like beauty with these empowering tees. Inspired by women in today's busy world, who manage careers, care for families, and strive to better their communities, the Goddess of the Nile tees collection brings fun, relaxation and style to these women of power. With prices starting at $29.99, women can shop till they drop, adding beautiful style pieces to their wardrobes at great prices.
Lela Christine, publisher, fashion designer and FIDM alumni, designed this stylish, comfortable, durable, luxury T-shirt collection. Incorporating gold and silver metallic illustrations with women of grace and substance, the collection reflects the goddess-mind consciousness many women embrace that are connected with yoga, Pilates and other exercise practices. Lela states, "We all love a good quality, pullover t-shirt that feels luxurious and radiates style." Women also love a great deal that gives back, which is exactly what Goddess Couture News is doing with this collection. A portion of the profits for each T-shirt will be donated to organizations that support disadvantaged women and children.
This first launch of designer T-shirt styles is available now. With each quarter, new releases will expand this series of styles and designs. The Goddess of The Nile T-Shirts are made from burnout jersey and combed ring-spun cotton. Featuring the popular V-Neck shape, these pullover tees are very soft and comfortable. The artwork illustration on the new series, called " The Goddess of The Nile," presents a woman holding an apple that represents the food of life. She is wrapped in a gold scarf that flows down with the designer logo intertwined in metallic gold and pink gemstone ink. The Goddess of the Nile T-Shirts come in three colors: White, Turquoise and Black.
Be among the Goddesses who "Style-Up" their jeans and leggings with our exclusive designer Goddess of the Nile T-Shirt. Get yours here: http://goddesscouturenews.com/shop-2/. And here at http://goddesscouturenews.com/product/white-goddess-of-the-nile-shirt/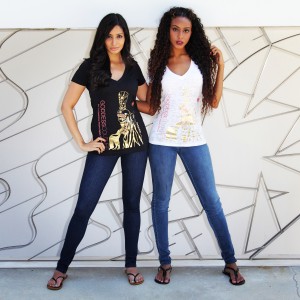 About GODDESS COUTURE News
Goddess Couture News online moves as a weekly online digital magazine devoted to the inner goddess that shines in all women. Our core focus is centered on beneficial news in health, style, art, beauty, spa travels and lifestyle facts about women of substance. We share features that raise the vibration of consciously diverse women. In our world, a goddess is committed to healing the earth and works towards peace and understanding — whether it is on a large scale or simply within her family and closest circle of friends.
Goddess Couture News is all about the best presentation of you! Link into the world of Goddess Couture News at: http://goddesscouturenews.com/.
Follow Goddess Couture News via our social engagement pages:
Facebook: https://www.facebook.com/goddesscouturenews
Twitter: https://twitter.com/GodessCouture
Instagram: http://instagram.com/goddesscouturenews
GooglePlus: https://plus.google.com/u/0/+GoddessCoutureNews/posts
Share your thoughts and help add more goodness to our world and planet by emailing us at [email protected].