Goddess Couture News, For Women of Style & Grace. Innovative Goddess Couture News is a trailblazing online publication where women can learn how to be the best version of themselves through every facet. Featuring a lavish amount of features, never before in one place has there been access for women to obtain everything from designs fresh off the runway to the greatest in yoga and personal health. In a society where the pressures are high to look, and act with consistent class, Goddess Couture News shows readers how to manifest the necessary traits to not just appear better but to authentically be better.
Goddess Couture News leaves no stone unturned when searching for ways that women can become the best presentation of themselves. Perpetuating its theme of holistic female empowerment, Goddess Couture News currently features the fashion forward and structures designs of English designer John Richmond's 2015 Spring Collection, a powerhouse who has dressed the likes of Madonna, Mick Jagger, David Bowie, and Kim Kardashian; GuruNanda Pulling Oil a 5,000-year-old Ayurvedic healing practice used to detoxify the body and whiten teeth, life-changing nine minute yoga with Gurmukh Kaur Khalsa the cofounder of Golden Bridge Yoga in Los Angeles, Pathos Queen a one-of-a-kind timepiece by Carl F. Bucherer, Words of Wisdom from Dr. Pillai on how to manifest your desires, Queen Talk from leading women like Queen Afua, in a variety of today's industries, and Maya Angelou's three-word secret to living your best life.
Readers can explore a plethora of subjects which are elegantly categorized in the Health, Style Guide, Beauty, Goddess Chronicles, Society Spotlight, Spa Life, Jewels and Gemstones, and Events tabs.
We move as a weekly online news magazine devoted to the inner goddess that shines in all women. Our core focus is centered on health, wealth, style, art, beauty, and historical positive facts about women in power. A goddess is passionate. A goddess's natural state is one of joy and gratitude. A Goddess raises the vibration in a group situation. She inspires others. She has a palpable energy and enthusiasm that is contagious and beneficial to those around her. A goddess is continually learning and evolving. A goddess is authentic. She has learned to express her emotions cleanly and healthily. A goddess knows her own truth. A goddess is committed to healing the earth and works towards peace and understanding — whether it is on a large scale or simply within her family and closest circle of friends. She contributes to cleaning up the environment and teaches the next generation to do likewise. A goddess takes care of herself. A goddess sees her body (and the earth) as sacred, and is in tune with natural cycles. She treats herself as well as she would treat her best friend. She is compassionate and forgiving with herself and others. A goddess knows how to share and is generous of spirit, but she knows her limitations and does not give more than what she can afford emotionally, financially, physically, or energy-wise. What's great is the fact that we featured stories that support women to connect as one globally. Goddess Couture News is all about the best presentation of you!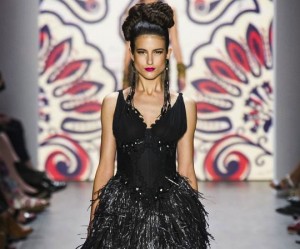 Goddess Couture News Social Engagement Links:
Facebook – https://www.facebook.com/goddesscouturenews
Instagram – https://instagram.com/goddesscouturenews/
Twitter – https://twitter.com/GodessCouture
Pinterest – https://www.pinterest.com/fab5lifestyle/
News & Story Pitch Inquiries:
Email our Goddess Couture News Team at [email protected]
W: http://goddesscouturenews.com/
F: https://www.facebook.com/goddesscouturenews
T: https://twitter.com/GodessCouture
I: https://instagram.com/goddesscouturenews/