Kid's Choice Awards Hottest Kid Stars "Say Yes" To The Stop-Attack App. It's all about the kids when it comes to safety with the groundbreaking mobile application STOP-ATTACK. Kid's Choice Award's hottest kids and teen stars were very excited to learn about a new app that aids in uncomfortable situations when it comes to bullying and assault.
Since the initial launch of STOP-ATTACK, the CEO Anthony Bright of Braxington Technologies and his team have been on the scene in Hollywood from the GRAMMY's to the OSCAR's. The team had been getting the word out about "always staying prepared" just in case you get in a bad situation.
The STOP-ATTACK team presented the innovative assault-response app to over 75 celebrity youth and their families at the 2015 all-star GBK Kids Choice Celebrity Gift Lounge on March 26th and 27th. The two-day event placed the spotlight on some of the biggest kid stars in Hollywood. The good news, STOP-ATTACK generated tons of buzz with media and a plethora of celebrities. The STOP-ATTACK lounge area was not one to be ignored, capturing the attention of everyone in its vicinity. It's good to know anyone can utilize the STOP-ATTACK mobile app and easily download on any Apple or Android mobile device in less than 60 seconds.
The talent at this year's Kid's Choice Awards Gifting Suite shared their positivity towards the STOP-ATTACK mobile app. Many of televisions hottest stars that have families said "yes" to downloading this mobile app such as Viola Davis (How To Get Away With Murder) who brought her darling little daughter with her to have fun at the kids gifting lounge. Holly Robinson Peete (Disney's "Instant Mom") who is all about keeping her kids safe and Sheryl Lee Ralph (Disney's "Instant Mom") who stated, she will share the STOP-ATTACK app with her family and friends. The talented mother, wife and star Salli Richardson Whitfield of (BET's "Being Mary Jane") also stated "it's all about great mobile apps that support safety for the family".
Kids come first when it comes to prevention and safety. The STOP-ATTACK team was successful in sharing and creating a platform against bullying, domestic violence, assault, and rape. Signature STOP-ATTACK umbrellas where given to each Kid's Choice Awards nominee and winner of this year's best family shows on television. The teen and kid stars especially adored the T-Shirts, tank tops and the convenient sling backpack. Kids Choice Awards Favorite Reality Show "Dance Moms" winners Nia Sioux Frazier and JoJo Siwa were so excited about the STOP-ATTACK mobile App that their mothers downloaded the app right away!
STOP-ATTACK, sparking awe and interest from Favorite Kids TV Show cast winners Brooke Sorenson, and Mimi Kirkland stars of (Disney's "Austin & Ally"). Many kid stars such as Ava Kolker (Disney's "Girl Meets World"), Caitlin Carmichael (Agent Carter -"Portrait Of Love"), Reiya Downs of Teen Nick's (Degrassi The Next Generation), Jake Brennan (Netflix's " Richie Rich") dropped by and stated "I need this app, I am downloading on my phone today!"
The "yes factor of this mobile app" were all smiles for Riele Downs star of nominated TV show (Nickelodeon's "Henry Danger"), Luna Blaise star of (ABC's " Fresh Off The Boat"), Jessica Marie Garcia star of (Disney's "Live And Maddie"), Ryan Newman star of (Nickelodeon's "See Dad Run"), Haley Tju star of (Nickeledeon's " Bella And The Bulldogs"), Sloane Morgan Siegel star of (Amazon's "Gortimer Gibbon's Life on Normal Street"), Jillian Estell star of ("Black or White" starring Kevin Costner and Octavia Spencer), Gavin Macintosh star of (ABC Family's "The Fosters"), Jason Ian Drucker and Marvick Moreno stars of (Nickelodeon's "Every Witch Way") nominated for Favorite TV Show as well as star teen athlete McKayla Maroney (Olympic Gold Medalist). Dozens of kids and teen stars from Disney, Nickelodeon and all the primetime networks ranging from ages 5 to 16 years old were truly excited about the functionality of the mobile features that are easy to use when in need.
The STOP-ATTACK assault-response app comes packed with potential life-saving features and can be activated using hot-keys or by touching the app's icon. Upon activation, the app is placed in a stand-by mode and with one tap of your screen your device begins a video and audio recording session. The application goes beyond being able to record physical and verbal abuse. It also comes equipped with options for a flashlight and alarm to possibly prevent assailants from taking any further action.
User privacy is not compromised with STOP-ATTACK. All recordings are stored on a secure and private cloud and are only visible to the user and their customized set of contacts. Users also hold the sole ability to download and manage or delete recordings, holding true to STOP-ATTACK's mission to give their members control of every situation.
STOP-ATTACK is suitable for people of all ages because it is easy to use. It is perfect for parents hoping to gain peace of mind for their children or for an adult walking in a parking garage late at night.
Mr. Bright has a bachelor's degree in Computer Science and a minor in Business Administration from Upsala College. He is a member of the International Bullying Prevention Association and many other national organizations focused on aiding teens and families globally.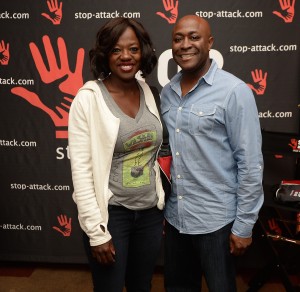 CEO, Tony bright with Viola Davis (How To Get Away With Murder)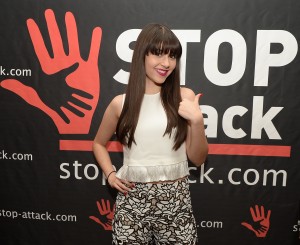 Elizabeth Elias Star on Nickelodeon's "Every Witch Way"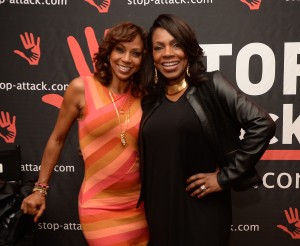 Holly Robinson Peete with Sheryl Lee Ralph stars of " Instant Mom"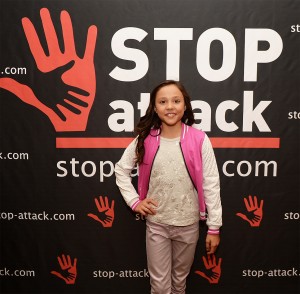 Breanna Yde: Nickelodeon's " The Haunted "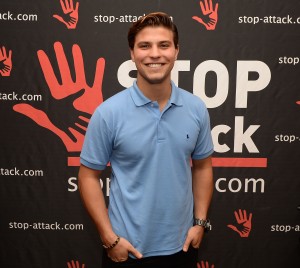 Luke Bilyk star of Teen Nick's "Degrassi The Next Generation"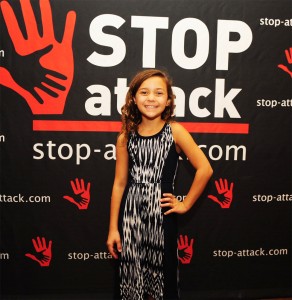 Mimi Kirkland Star of Disney's Austin & Alley"
STOP-ATTACK App Social Engagement Links:
F: https://www.facebook.com/StopAttackApp
T: https://twitter.com/stop_attack
P: http://www.pinterest.com/stop_attack/
I: http://instagram.com/STOP_ATTACK
Y: https://www.youtube.com/user/stopattackapp
STOP-ATTACK is available on IOS and Android mobile devices and costs only a low $3.99 a year. For more information on STOP-ATTACK and to see videos of the app in real-life scenarios please visit http://www.stop-attack.com .
Press Inquiries:
The Society Nineteen Group
Communication Marketing Director
Office: 310-645-8823